I've been fusing glass in Terri's studio for a few months now. I now think of it as a hobby and Terri as a friend. Her experience, advice and patience is helpful, while her hands-on teaching builds confidence and ownership over each piece of glass you make. I have a long list of things I'd like to make, and every time I leave her studio I'm even more inspired. It's a wonderful (affordable!) creative outlet, making truly one of a kind glass. I look forward to gaining experience and spending more time having fun playing with glass. 
Roxanne Tucker
I have had the opportunity to take several classes with Terri. She has taught me about the glass fusing process, but more importantly she has taught me how much fun it is to come and "play" with her glass! I have made several different projects and have loved them all. I even booked a class with some of my friends and they all loved the experience. 
Dotty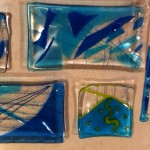 My mom and I had the pleasure of taking a Glass Fusing with Friends class at Terri's studio recently.  What a fun and easy way to create your own one-of-a-kind piece of art.  Terri was very knowledgeable and willing to lend a hand when we just didn't quite know what our glass pieces needed next – another shape, more color, etc.  Her expertise put us at ease and made the experience so enjoyable.  We can't wait to get back to the studio to create more glass. 
Kristin
I took one of Terri's glass classes with a couple of friends. It was really fun! I was concerned that I needed to be artistic, but found that I just had to use my imagination and play. I would definitely recommend attending a class. 
Peggy O.